Special Offers
From AED 55
Sunrise Yoga Monday to Wednesday Hour session at 6:30am & 8:00am Learn More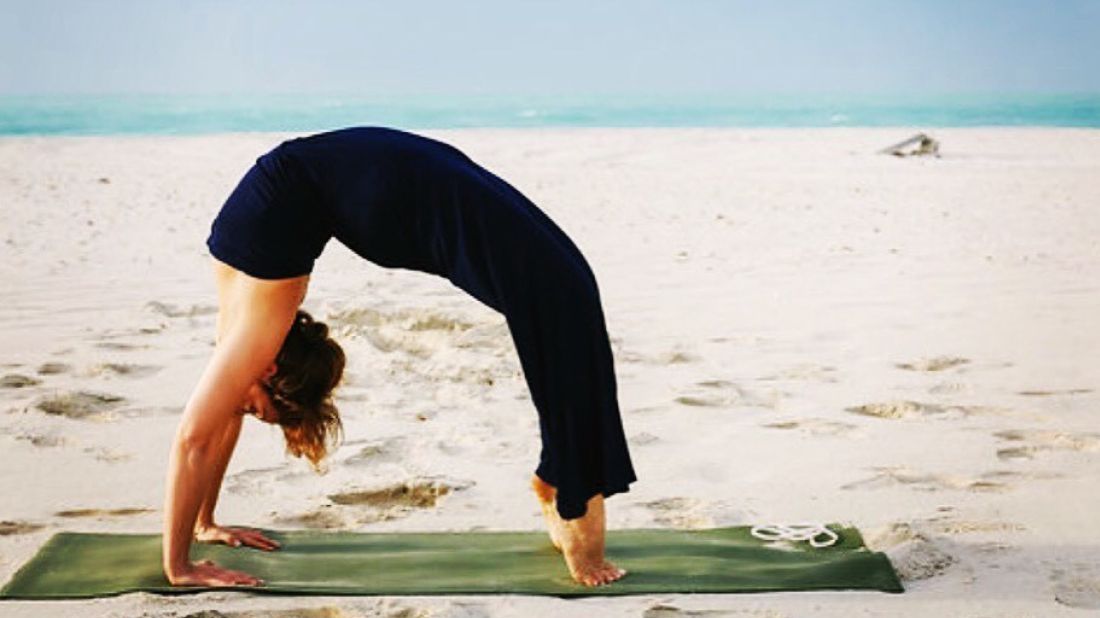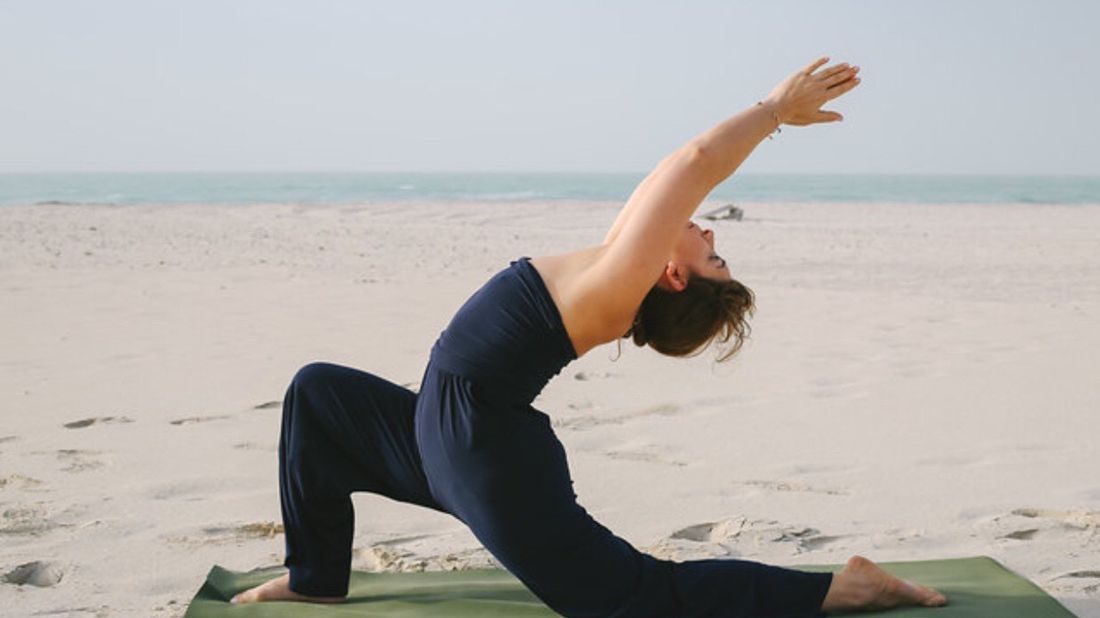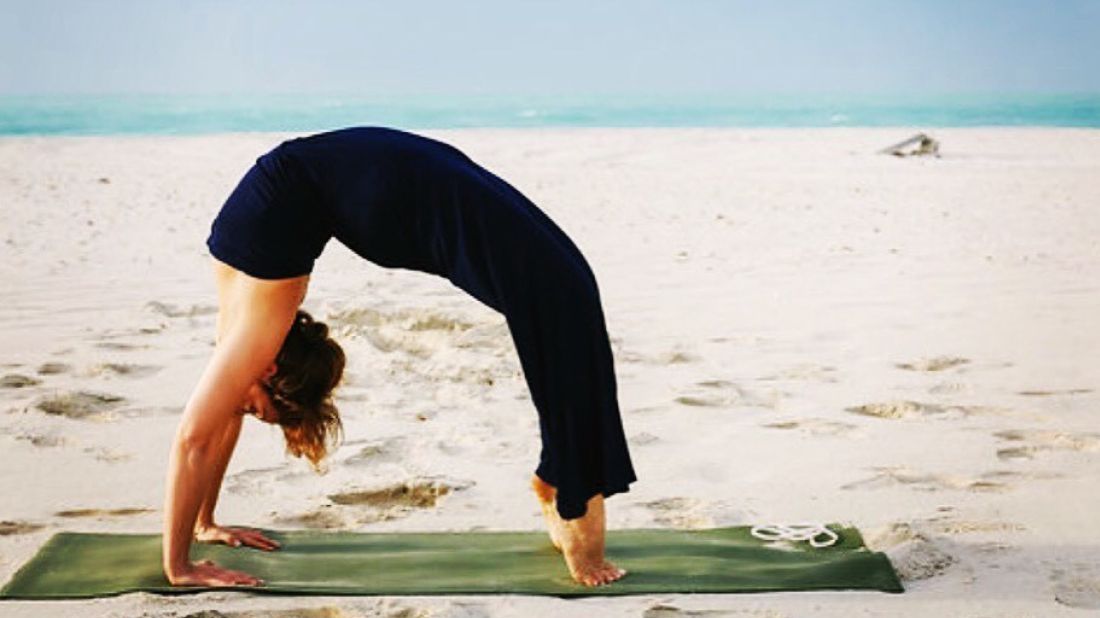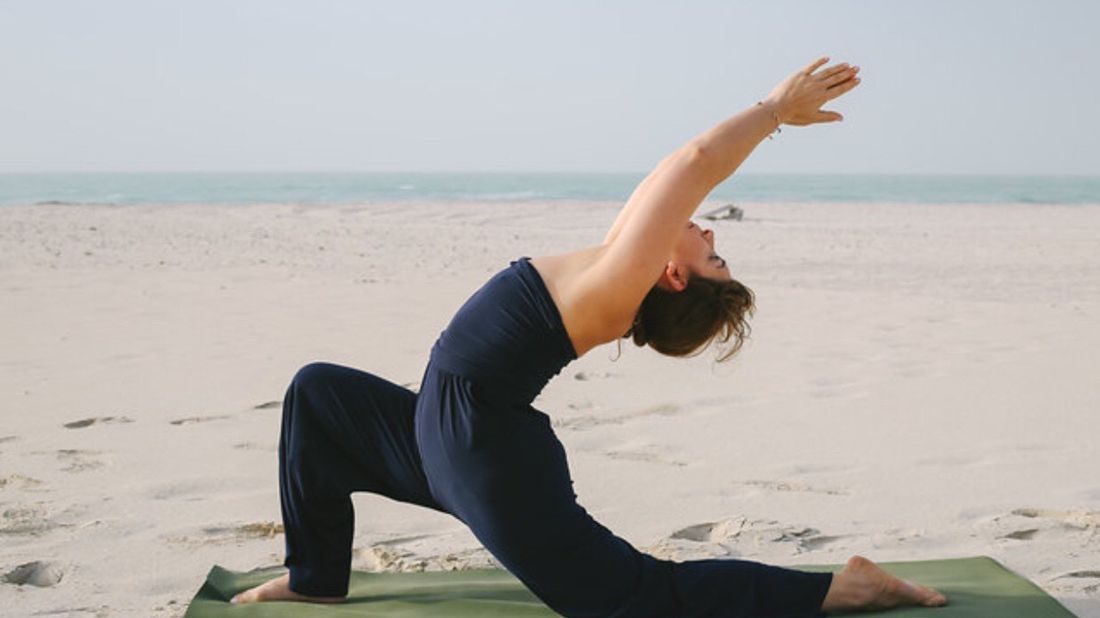 Yoga with Joelle Beyrouthy
With 20 years of experience, Joelle Beyrouthy has practiced and enjoyed a variety of styles of yoga. She obtained her first 200 hours – YTT yoga alliance certification in Thailand in April 2012. For the last six years, she has had the pleasure of being a Hatha Flow teacher.
As a dedicated Yogini, she wants to share her love for yoga philosophy and its benefits with people. Joelle draws inspiration from Tai Chi, Dance and Pilates, incorporating these styles into flowing asana sequences. Her teaching encourages students to strengthen their bodies while working on the energetic body and training the mind to be focused and present.
Student learn to experience presence and patience in a safe and open-minded environment; making her lessons ideal for all students from beginners to advance.
Non-members:
AED 80 per class
AED 630 for package of 10 classes valid for 3 months
Hotel guests and Nation Riviera Beach Club members:
AED 55 per class
AED 475 for package of 10 classes valid for 3 months
Payments to be made in cash only.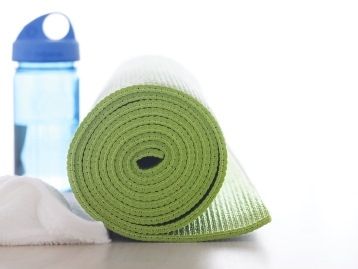 From AED 55
Boot Camp classes to energize and inspire. Every Monday From 5:00pm - 6:00pm Learn More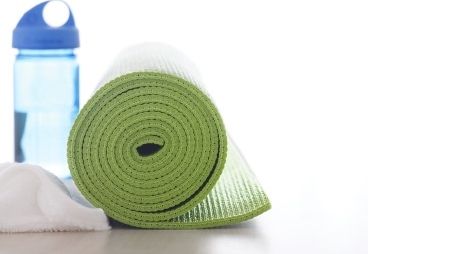 Boot Camp on Mondays
An energetic workout that targets a variety of areas of the body. The Boot Camp 'total body conditioning' sessions led by our professional Personal Trainers who will guide and inspire you.

Prices:
•Members and Hotel Guests: AED 55 per class
•Non-Members: AED 80 per class

<ul> <li>Group exercise classes conducted by our qualified Personal Trainer the classes will start at the specified timings.</li> <li>All classes will meet/take place in the Health Club unless otherwise stated.</li> <li>Please note that classes are subject to change without notice.</li> <li>One-day advance reservation required for each group classes. Tel: +971 (02) 694-4780</li> <li>Appropriate attire is required for all participants.</li> <li>*Prices are inclusive of 10% service fee, a 6% tourism fee, 4% municipality fee and 5% VAT.</li> </ul>
Personal Training Session packages available for Members, In-house Guests and Non-members.
Cole Franklin - Health and fitness must be adaptable and personalized. It is important to design enjoyable sessions that enhance life we live. Inspired by these quotes 'Progression not perfection' and 'we are what we eat' I motivate you to continually improve and achieve your goals through eating right and healthy leading a balanced life. Learn More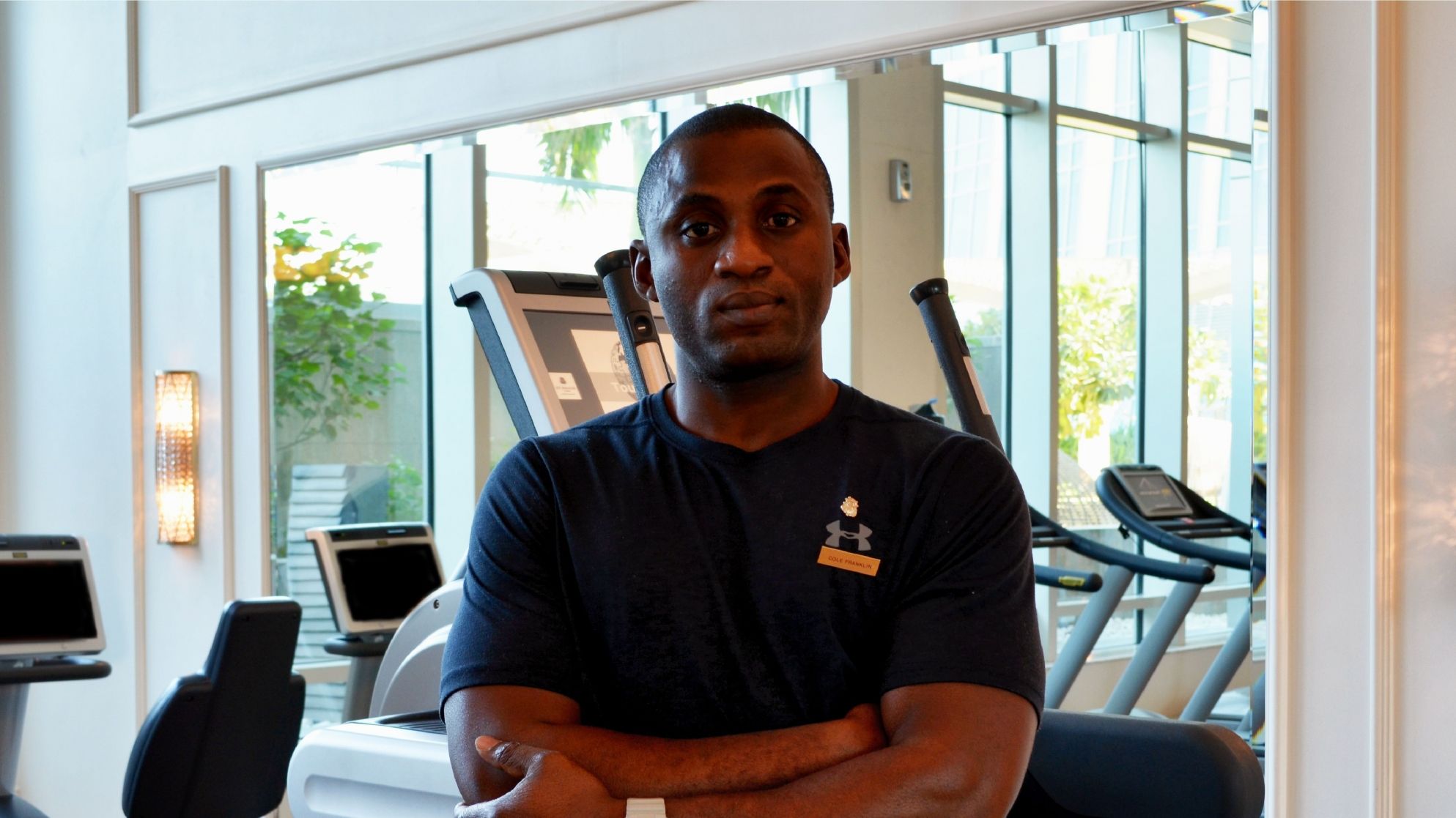 Personal Trainer
As an enthusiastic certified personal trainer. My approach is to listen and understand fully your health and fitness goals. We then custom design a variety of safe and beneficial training sessions tailored to be effective and enjoyable. I teach with progression and modification to assist you to perfect your techniques, balance, stability and alignment. I inspire you to listen to your body; whether your goals short or long term you will know yourself better.

Credentials:

Reps Level 3 Personal Training & Nutrition (Active IQ, Body / Hack)
• Nutrition Advisor and Meal Planner
• Training sessions in any environment, indoor and outdoor.
• Training with or without equipment.

Reps Level 2 Fitness Instructing / Gym Based Exercise
(Impact British Training solution) CYQ

Boxing fundamentals and TRX WORKSHOP

HBSC Level 2 International award in Emergency First Aid, Defibrillation and CPR.
(High Field International Accreditation)

Personal Interest:
I enjoy soccer, long distance running, swimming, cross fit and boot camp.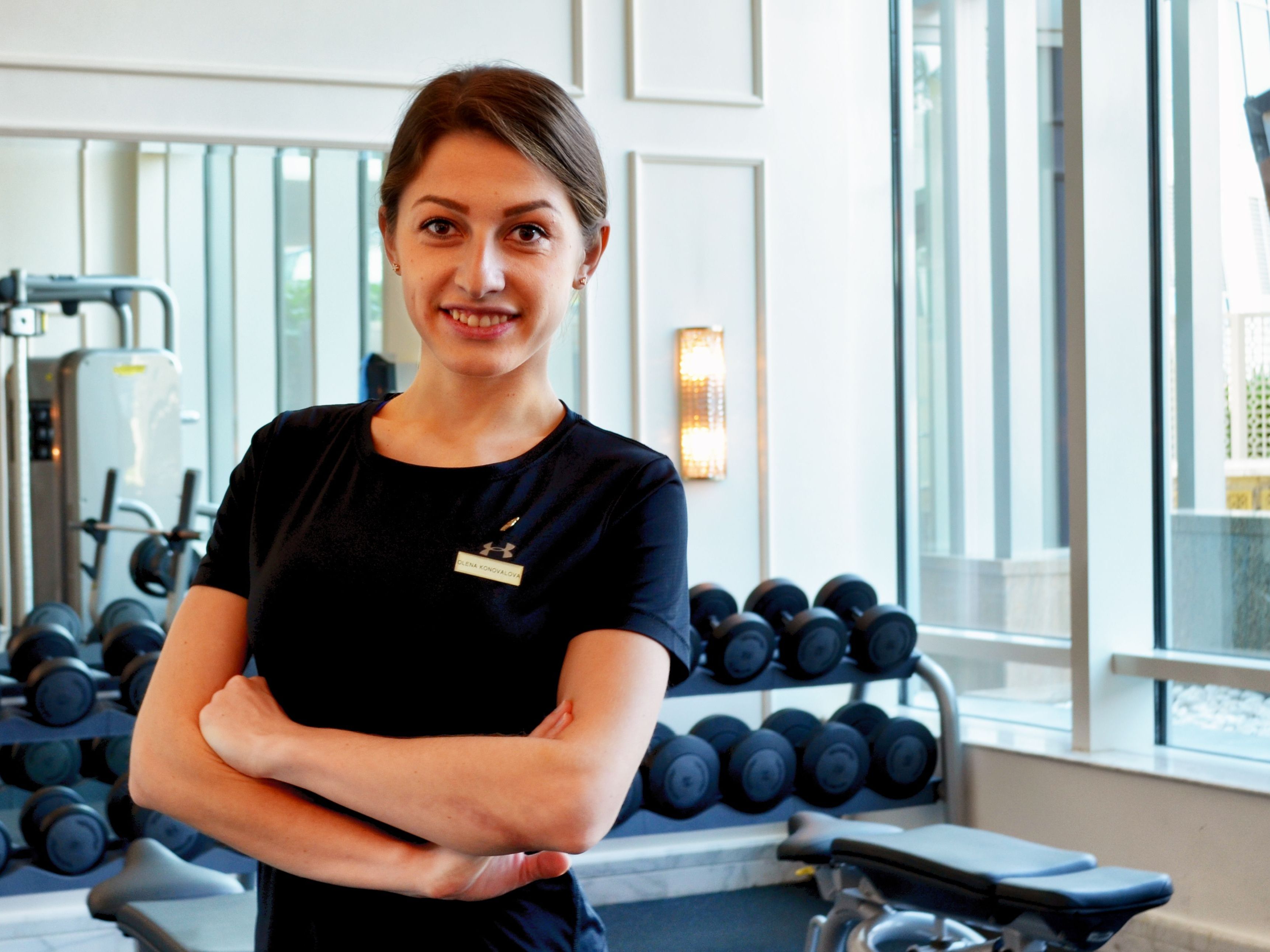 Personal Training Session packages available for Members, In-house Guests and Non-members.
Olena Konovalova - Training is not just a way to stay in shape, for me it should a good base to improve the way we live. Assisting you to tackle health issues, prepare and enable you to enjoy all types of movement and many varieties of sport. Learn More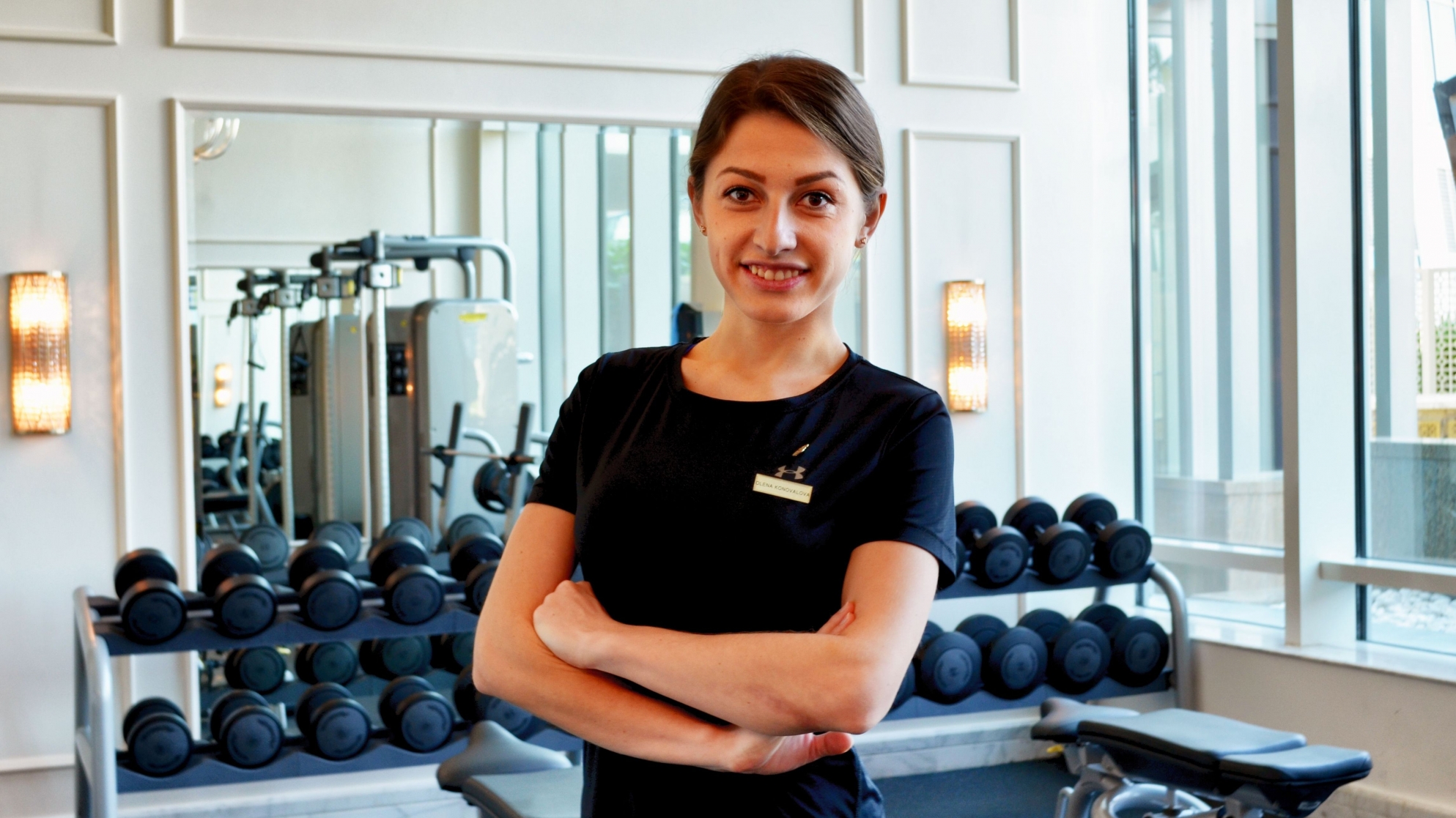 Personal Trainer
As a passionate Personal Trainer, my role is to motivate, enable and make training a fun and a rewarding experience. I endeavor to see you achieve your fitness goals, through a tailored approach of regular fitness activities. Life is an adventure; be inspired to pursue self-improvement and achieve your audacious goals no matter how challenging they may be.
Credentials:

"Career Sport" Fitness Academe (Active IQ Level Certificate in Fitness Instructing):
 Anatomy and physiology for exercise
 Health, safety and welfare in a fitness environment
 Instructing gym-based exercise
 Know how to support clients who take part in exercise and physical activity
 Planning gym-based exercise
 Principles of exercise, fitness and health

American safety & health institute – CPR, AED and Basic First Aid (adult, child and infant)

Professional in Mountain bike:
 Master of sport (Ukraine)
 Part of the Ukrainian National Team (2008-2011)
 Champion of Ukraine MTB (2008-2011)
 Champion of Poland in International competitions MTB between juniors (2010-2011)

Interests:
I enjoy mountain biking, running, yoga, horse riding and travel.